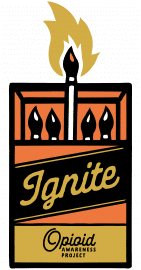 Do you, or someone you know, have lived experience with the fentanyl crisis and want to share your story through creative expression?
Ignite is the Calgary John Howard Society (CJHS)'s public awareness project that showcases art representing individuals' experiences with substance use and the stigma associated with it.
Funded by Alberta Health, Ignite will run from May to December 2018 and will use creativity as a therapeutic outlet for those who have experienced the crisis, and a learning tool for the public through art exhibits in Calgary.
CJHS will provide all materials needed at no charge, and will display the art projects throughout Calgary with the opportunity for artists to sell their work, retaining 100% of the profit.