Identified as gifted at a young age, Jonah is highly intelligent and talented. He did his first multiplication table when he was four and excelled at sports.
But his life began to unravel after his parents divorced. While his mom's presence was chaotic, unstable and, at one point, turned physical, his 12-year-old sister was left to raise Jonah and their younger sister. Although she bullied him constantly, Jonah doesn't blame her. "She wasn't ready for that."
Jonah fell into depression and, being the imaginative kid that he was, created a fantasy world in his head to escape the emotional distress at home. Because of this, Jonah was targeted and ruthlessly bullied. He started getting into fights, "But it's not the fighting that hurt," he says. "It was the things they said to me.
"For two years, I woke up every single day and didn't want to live anymore. I felt like every day was worse than the next and that no one was listening to me."
Jonah left home at 13, devastated by the cruelty he was experiencing at home and at school. He spent his nights sleeping on trains, at McDonald's and couchsurfing. He tried to continue with school but, with lack of stable housing, it became too difficult and he dropped out. He lied about his age so he could work but was often exploited because of his young age.
At 15, Jonah finally found a home in CJHS's Roofs for Youth program, which provides housing for youth ages 15-24 who are experiencing homelessness and justice system involvement. "My caseworkers have been awesome," he says. "I feel the compassion from the staff and I love them for it. They give me the support that I couldn't get from my family."
Jonah learned to cook in the program — something he loves to do — and has taken part in the employment program at CJHS, where he got the tickets he needed to work in construction. "I didn't have any education or experience in this area, so having these tickets helps, big time," he says. "This opens the door for me to getting a job that would usually pass me over."
Now 21, Jonah has a new job in construction. "It's the best job I've ever had," he says proudly. He's still battling with mental health issues but he's determined not to let it get in the way. "By focusing on my recovery, I could turn this into a career."
Jonah is also playing softball and is passionate about making hip-hop music with a positive message. But his ultimate goal is to be able to give back by helping people who are struggling with addiction and incarceration, and to be a human rights advocate for people in prison.
"CJHS has been a trampoline for me," he says. "Life goes up and down. Sometimes I jump off and break my leg, but they always help me back on."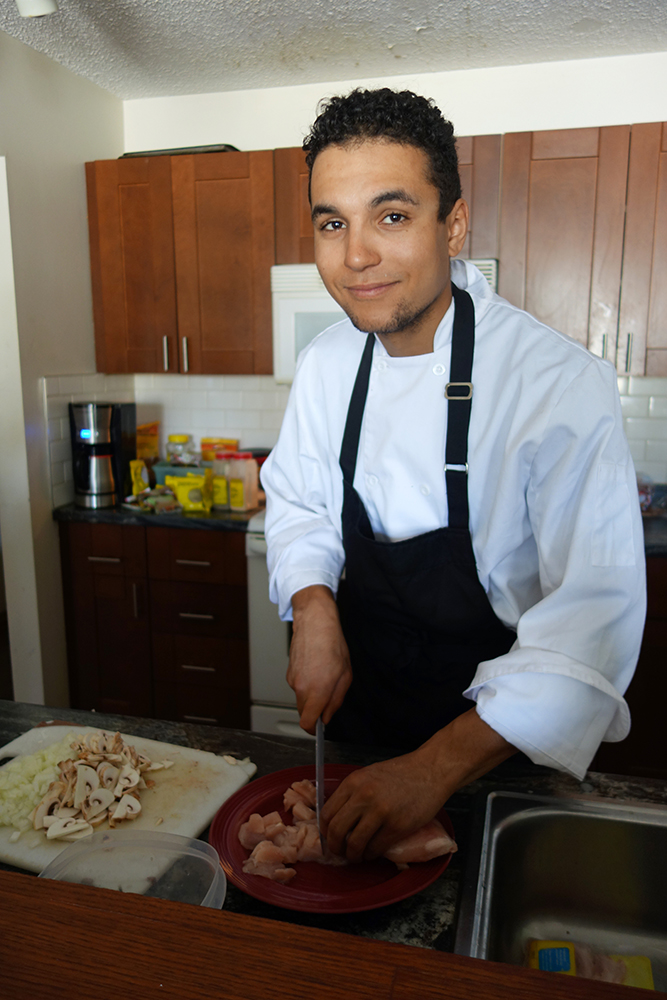 Before Jonah moved into independent housing, he lived at CJHS's Windsor Park, a nine-bedroom house for youth ages 18-24 who are experiencing homelessness and justice system involvement. Here, on a recent visit back to Windsor Park, he cooks lunch for the youth who are currently living there.