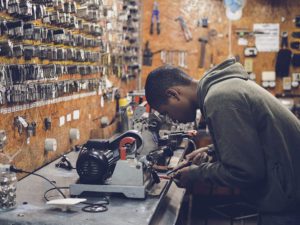 Thorn* lives at Bedford House, a community-based residential facility for men exiting the justice system. Most men who live there are on parole, but not Thorn — he is actually choosing to live there because he knows the supports offered would give him a better chance of changing his life.
Kym Jacobs is the Residential Manager at Bedford House and is sharing 33-year-old Thorn's rather extraordinary story. "He was going to be released into homelessness," Kym says. "So we offered him a space here. He was elated."
Thorn has been at Bedford House for two months now and is working, applying for school and has diligently followed the expectations set for him. "He's very grateful for the support," Kym adds.
The other men who live at Bedford House are required to live there as part of their parole and rent is covered by Correctional Services Canada. Thorn, on the other hand, is paying his own rent so he can live there. He still must follow the same rules as the other tenants, such as checking in when changing locations and keeping a curfew.
"He could be out there doing whatever he wants but he chose to be here," Kym says. "Especially for a young man, I think it's admirable that he's willing to pay his own rent to live in a place where there are a lot of restrictions."
With funds from the Government of Alberta and the RESOLVE Campaign, Calgary John Howard Society is building a new Bedford House after the original location was expropriated. Tenants are living in a temporary location until the new facility can be built.
Thorn has experienced a lot of trauma throughout his life. This led him down the path of addiction and, eventually, the justice system. With the 24/7 support of caseworkers and monitoring at Bedford House, this is likely his best chance at reintegrating into the community as a contributing member.
The holidays can be a difficult time for people like Thorn, who doesn't have any personal or family supports in Calgary. But Thorn is making the best of it. He took the initiative to decorate the entire second floor himself. "He spent about three hours doing it," Kym says. "You could tell he put a lot of thought into it. We were amazed."
The new Bedford House broke ground in December 2017 but still requires funds to complete the construction. Help make Calgary a safer community for everyone by donating today!
*Name changed for confidentiality