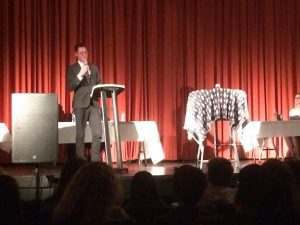 Fans of the '90s sitcom "Seinfeld" joined University of Calgary law students for a part courtroom drama and part improv-comedy in February 2018, where student lawyers put George Costanza and Cosmo Kramer on the stand for the damage they caused the unfortunate whale in "The Marine Biologist."
The theatrical event raised $3,500 for the Calgary John Howard Society (CJHS)'s Literacy and Learning program. The program offers both one-on-one tutoring and group learning opportunities, at no charge, for marginalized adults involved, or at risk of becoming involved, with the criminal justice system. This enables them to improve their language and literacy skills and pursue further learning.
Filomena Calabrese, Literacy Coordinator & Digital Literacy Instructor at CJHS, says the gift is incredibly meaningful because it directly supports clients.
"We are so grateful to community members like these students, who facilitate our work and enable us to offer reintegration possibilities for our learners," she says. "And who support education and continued learning as one way to strengthen community and prevent crime."
The importance of literacy and learning
Thanks to donations from the law students and other philanthropists, CJHS's literacy team is able to work one-one-one and in groups with nearly 550 adult learners who are incarcerated, have been involved with the criminal justice system, or are at risk of becoming involved in criminal activity. Among these learners last year, 14 per cent had completed up to Grades 7 to 9; and 53 per cent had completed some high school or obtained a high school diploma. The bulge in numbers points to education gaps and/or low literacy levels in the program's learners, as well as the role that low education and literacy has on causes and consequences of criminal activity.
Kendall (name changed to protect his privacy) worked with a CJHS literacy practitioner while he was incarcerated to prepare for his General Education Diploma (GED). He passed and is working on applying to a Media Design Production college program.
"I have finally turned my life around, and would like to continue on the path that I am on," he says. "It's taken a lot of work to get where I am in life. I haven't been incarcerated in over a year, which is an accomplishment for me because I have an 18-year criminal history."
How it works
CJHS's literacy team works with learners to help them:
Return to school
Upgrade courses
Improve basic reading, writing, computer, and math skills
Build essential skills for sustainable employment
Increase self-confidence around learning
Access learning resources in the greater community
"We address education and literacy by providing learning opportunities to these individuals," Filomena says. "So that when they are ready to reintegrate into the community, they are armed with self-knowledge, essential life skills, and information about alternatives, support and resources which will assist them on their continued journey."